HOME › Products › Packer Scale - Automatic Packaging System › Gross Packer Scale
Gross Packer Scale
Gross Packer Scale PSGL
Features
Compact Design.

The compact design of the load cells allows the equipment to be installed in a small space.

One-man operation.

The feeder chute is equipped with clamps for bags, so one operator can perform all the tasks from weighing to packing.

Variant feeder.

A wide range of feeder equipment is available, so the optimum type can be selected to suit what is being weighed.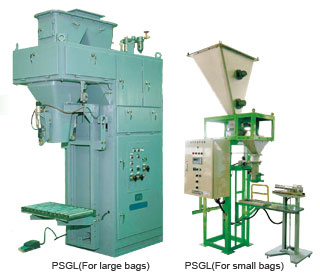 Main specifications
Designation
PSGL(for large bag)
PSGL(for small bag)
Measuring quantity
10~50kg
1~5kg
Accuracy
±1/500
Capacity
150~200B/H
50~100B/H
Material to be weighed
fertilizer, grain, massive
Weighing method
Load cell type gross weighing
Feeder
Cut gate
Screw feeder
Electromagnetic feeder
power source
AC200V 50/60Hz
3 phase 1.5KVA(single)
air source
0.490MPa(5kgf/cm2)
-
air consumption
50/min
-
dust collection
vacuum pressure
200~300mmAq
air
5~6m3/min
External View (PSGL-SF)