Indicator DI-1500
Infused with all the KAMACHO technologies, the Indicator is equipped with advanced functions that can handle all types of needs.
Its large 12.1-inch LCD display enhances the visibility of figures and the design.
Comes equiped with a voice guidance function, and ease of operation has improved significantly now that is compatible with USB memory sticks.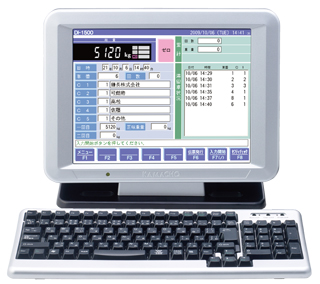 DI-1500 Features
1. Bright and easy-to-see display and easy operation
Uses a large 12.1-inch LCD screen. The ten-key touch panel allows basic measurement operations to be performed without using a keyboard.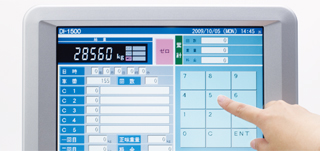 2. Voice Guidance
The voice guidance function supports measurement operations.

3. Compatible with USB Memory Sticks
When you wish to take the data with you, just insert a memory stick, and a few easy steps gets the measurement data ready to go.

4. Five Code Types Customizable
The name of five types of code can be set freely, allowing the instrument to be used for measurements in all types of industries and conditions. Totaling and processing are easy for each code that has been set.
5. Display of Operation Data
Retained data can be displayed, making it easy to know at a glance what vehicles are operating at the site. The totals of the number of measurements, weights, amounts and other figures are displayed on-screen at the time of measurement for each code that has been set, enabling operators and loaders to find measurement conditions easily.
6. Traceable Warning Log
It comes equipped with a self-diagnosis function, and displays a message when it is time to be inspected. A history of troubles can be displayed, which can be used as a diagnostic record.
7. Network Flexibility and Expandability
It comes equipped with an input and output interface, enabling a link to be established easily with outside computers. Editing of measurement data and configuration of unmanned measurements and other measurement systems is easy.
Safety Check Mode Keeps the Operator Notified
First-of-its-kind technology in the industry! DI-1500 is equipped with a Safety Mode function.
When a Safety Check is done, Stop Measurement and Pass Measurement can be set at users discretion.
Confirmation of Vehicle on Scale Function
When a tire comes off the scale by accident or when a waiting vehicle comes onto the scale

Confirmation of Vehicle and Load Balance Function
When a discrepancy in balance is noticed during measurement due to an uneven load or a difference in air pressure in tires

Confirmation of Safe Vehicle Operation Function
When an excessive load is detected in the payload and on the axles and wheels during measurement