Small Quantity Weighing System HBS
For small-volume production of variety of products,Suitable for blending and weighing of dying/pigment.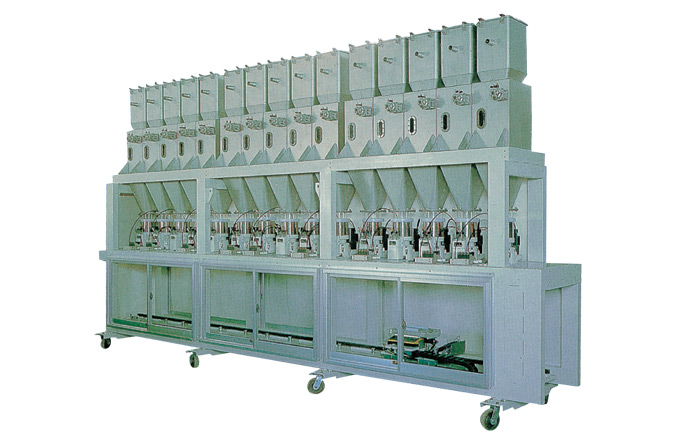 Relization of milligram-order precision regardless of batch size

The system can handle a wide range of batch sizes, in scales from milligrams to kilograms,with guaranteed precision on the milligram order.

Compatible with various powder types

Various types of feeders are available,such as the twin-screw feeder with a self-cleaning mechanism, coil feeder,table feeders, etc., allowing the system to maintain stable feeding conditions even for materials having high flushing or adhesion properties.

Unmanned Automatic weighing

The feeding, weighing, dispatching, and shipping processes are fully automated and require no manual operation.

Immediate switchover to different products

The feeder unit is fixed with a snap-on clamp to allow for easy dismantling and cleaning, and also provides for the switching of raw materials without interruption in operation.

User-friendly controls

The LC-1500/5500 control unit can be detached from the mainbody for remote control of the system. Up to 99 product types may be registered,and by presetting the tank number, weight, and pre-weighing conditions, automatic operation may be initiared simply by inputting the product neme. The various settings mey be made and confirmed while viewing the touth-key and rotaryencoder displays.
Basic system configuration diagram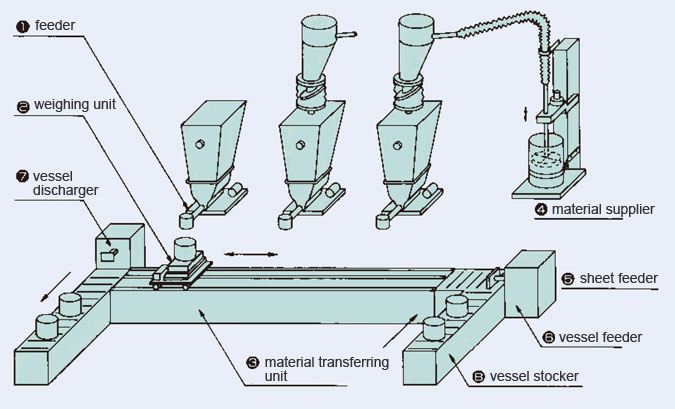 Weighing Method
Simple additional weighing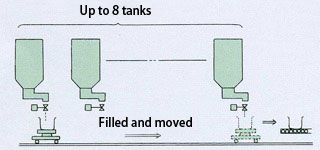 When the cumulative total is within the limit of the weighing range of the scale
Duplicated Accumulation Weighing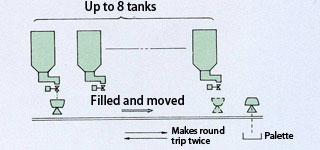 When the palette is fixed and the cumulative total weight is within double the weighing range
Number of times weighing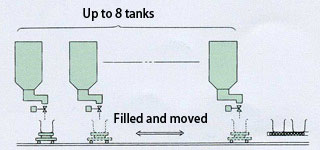 When weighing is repeated several times if the cumulative total weight exceeds the upper limit of the weighing range of the scale
Complex Weighing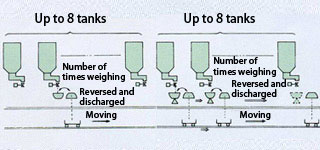 When the palette shifts in synchronization with the scale and weighing is done a number of times from the designated tank, or when the cumulative total weight is over double the upper limit of the weighing range of the scale
System drawing
Major Specifications
1
Type
HBS
2
Model
HBS-H
HBS-R
HBS-V
3
Weighting range(Upper limit)
100kg~10kg
6kg~2kg
50kg~4kg
4
Minimum indication(Graduation)
50g~2g
1g~0.5g
1g~0.1g
5
Capacity
3min.at8tanks4kinds additional measurement
6
Tank configuration
4tanks 6tanks 8tanks
7
Accurary
1% to setting value
8
Feeder
Single screw feeder,twin screw feeder, coil screw Feeder, vibratory feeder,etc.
9
Weight detector
Load cell
Load cell
Electronic balance
10
Material feeder
We'll provide it on your request
11
Cap. of stock tank
50~500
12
Brand setting
Max.99 kinds
13
Setting type
Rotary encoder
14
Weight vehicle
Reciprocating
15
Unloaded
Option
16
Dust collecting hood
Standard
17
Option

additional weight indication
weighed value date output
printing date output
outer setting input

18
Power source
Instrumentation AC100V 50/60Hz power AC200V 50/60Hz
*1 at simple additional weighting method
*2 duct collector is option