Automatic Packaging System
High-Speed Automatic Packaging System HAP-500
Features
High-performance rotational method

Primary, secondary, and tertiary filling, deaeration, and bag supply and dispatching are all performed at the weighing station, enabling high performance, high-precision production.

Compact design

Optimal rotation control, offering high performance at 500 B/H, has been achieved using a servomotor. Further,the adoption of the gross-weighing method has reduced the height of the system and has also allowed a more compact design overall.

Adoption of two types of deaeration units

The system is equipped with a combination of vacuum and vibration deaerators to achieve optimal deaeration results, and the seal is completed with no bag breakage. (An optional preliminary deaeration unit is also available.)

An efficient dust-collection system

The adoption of a minor recycle unit has reduced the amount of material recovered as dust.

Packaging control with the FA system

The FA computer system using optical communications is used for packaging control, and so the system can carry out optimal control based on specific powder properties.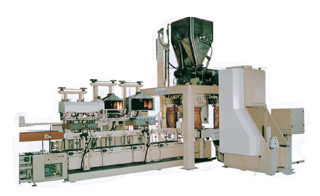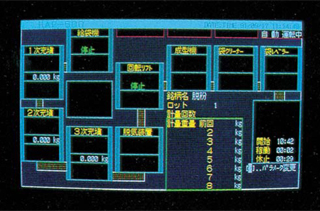 Specifications
Designation
HAP-500
Filling capacity
10~30kg
Accuracy
±1/1000
Capacity
450~500B/H
Material
Food, chemical, resin, cement, etc
Power source
AC200V 3phase 50/60Hz
Specification of bag
Open bag
Inner-poly outer craft paper open bag
Gusset bag
Pinch bag (double pinch)
Poly bag
Functions of each filling/Weighing unit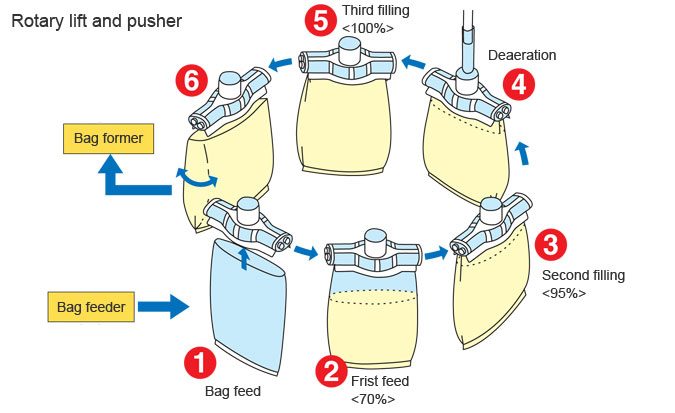 System drawing

Detail
This system realizes a clean and safe packaging system corresponding to the HACCP.
Unlike the conventional method, this system makes simultaneous bag feeding, material filling and deaeration possible, thereby achieving efficient performance with 500bags/hour.
Click the section you wish to see

Automatic Packaging System HAP-250
Features
Realize low cost by four section types of HAP-500. The characteristic is similar to HAP-500.
Specifications
Designation
HAP-250
Filling capacity
25kg
Accuracy
±1/1000
Capacity
150~250B/H
Material
Food, chemical, resin, cement, etc
Power source
AC200V 3phase 50/60Hz
Specification of bag
Open bag
Inner-poly outer craft paper open bag
Gusset bag
Pinch bag (double pinch)
Poly bag
Functions of each filling/Weighing unit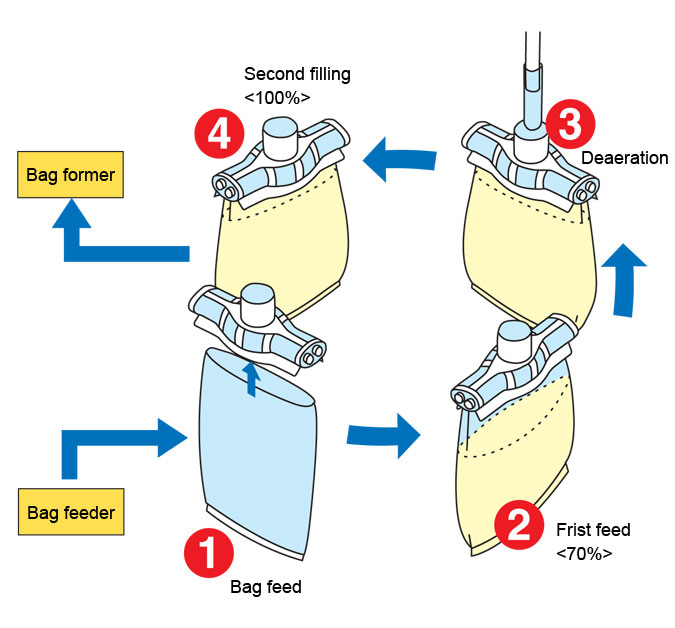 System drawing