Gypsum Board Separator GC Series
GC-150HF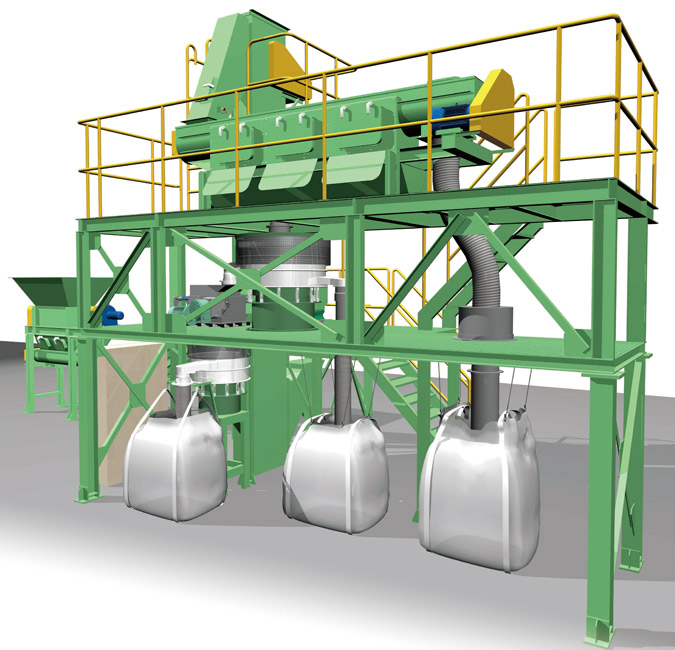 Presenting our landmark recycling machine!
The new returning mechanism minimizes the discharged mixture of gypsum and paper to below 1%. Furthermore, the amount of gypsum powder mixed with paper has also been reduced about 60% (compared to our conventional products) through the high-speed rotation of the new paddle. The product is also effective for sorting gypsum board with large amounts of moisture, and the improved magnetic sorter reduces the risk of equipment damage caused by foreign matter. In addition, the necessary installation space is very small. As can be seen, this product outdoes by far the conventional models. Gypsum powder and paper are sorted efficiently from waste gypsum board.
Process flow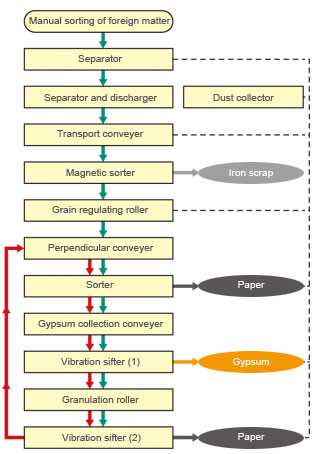 Materials to be processed
Gypsum board (dry)
Processing capacity
1,500 kg/hr (Varies depending on the condition of gypsum board)
Dimensions of throw-in port
1,500mm x 1,200mm
Installation space

*

Approx. 15,000 wide x 6,000 long x 8,000 high (mm)
Power for use
34.6kW
Power source used
Tri-phase 200V (50/60Hz)
Safety device
Emergency halting device
Matters not handled
Primary electrical wiring work, engineering work, building construction work, flexible containers for gypsum and paper
Hopper capacity
Approx. 0.6m3
Separator
Two-axial shearing method
Separator and discharger
Two-axial type
Transport conveyer
With gathering belt and top cover
Magnetic sorter: pulley type
Grain regulating roller
Two-axial spring compression
Perpendicular conveyer
Bucket type
Sorter
Sieve size of ø10mm
Gypsum collection conveyer
One-axial screw type
Vibration sifter (1)
Sieve size of 3mm
Granulation roller
Two-axial spring compression
Vibration sifter (2)
Sieve size of 5mm
Dust collector
With cyclone
Brush-off mechanism: mechanical vibration
Target separation performance
Gypsum: less than 3mm
Satisfies the regulation value for ignition loss (5% or less).
Paper: a small amount of gypsum gets mixed due to glue that is mixed in and other reasons.
*The installation space differs depending on the layout.