PET Bottle Compressor PB Series
PET Bottle Compressor PB Series
Recommended by Council for PET Bottle Recycling
Recycling has been mandated for PET bottles under the Act on the Promotion of Sorted Collection and Recycling of Containers and Packaging that was enacted on April 1, 1997.
The PB Series PET bottle compressors of KAMACHO have achieved sales of over 200 units since their release. They compress and reduce the volume of PET bottles collected from general households, and bind them with PP bands. They are effective for reducing workloads when transporting to the next processes, and also for reducing costs.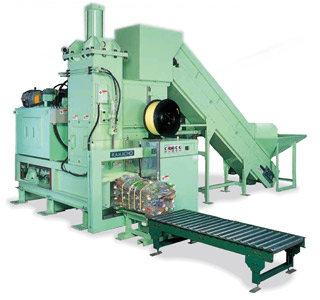 Role of the PB Series in Recycling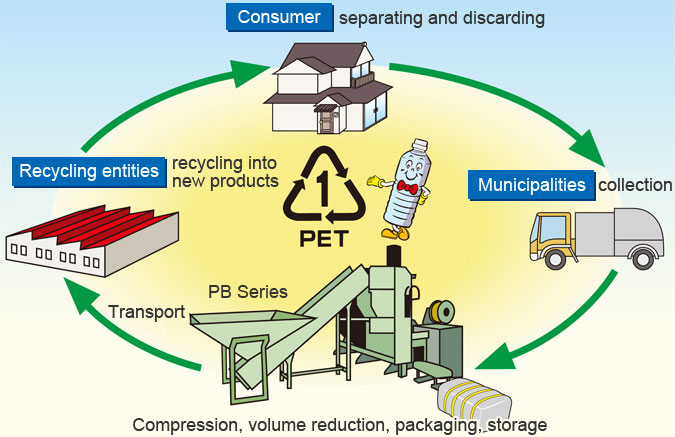 Features
PET bottles are compressed, volume-reduced and packaged automatically just by throwing them into the hopper.
The volume of PET bottles is reduced to about 1/10, allowing for a reduction in transportation costs.
Equipped with a built-in piercing mechanism for handling capped bottles.
A wide range of optional functions are available.

Status display screen

The LCD display enables operation status to be viewed at a glance.

Automatic scale

The number of bails being processed and cumulative weight are displayed and printed. (Utility model)

Processing of containers and packaging other than PET bottles

Paper packs for milk and other products and plastic trays can also be processed.
Major specifications of standard types
Item/Type
PB1000
PB800
PB500
PB400
PB300
PB200
PB100
PB100T
Processing capacity: kg/h
1000
800
500
400
300
200
100
100
Bail dimensions (mm)
600×600×400
600×400×350
600×400×300
Bail weight (kg)
30~40
15~20
13~18
Binding method
PP band: automatic
Semi-automatic
Motor (kW)
37
30
22
15
7.5
5.5
3.7
3.7
Compression force (kN(t))
411(42)
316(32)
275(28)
242(24)
Surface pressure (MPa)
1.14
1.3
1.14
0.98
Piercing mechanism
Included
Voltage
AC 200V 50/60Hz
Weight (kg)
Approx. 7,000
Approx. 4,500
Approx. 3,500
Approx. 2,500
Options

Conveyer for throw-in equipped with receiving hopper
Conveyer for manual sorting before processing
Crusher
Automatic scale
Status indication monitor
Paper pack processing
*The processing capacity may vary depending on the apparent relative density of the PET bottles collected.
Examples of compressed containers with reduced volumes
PET bottles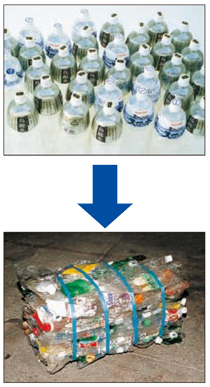 Paper packs for milk and other products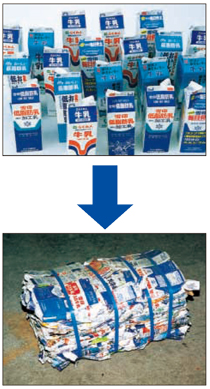 Plastic trays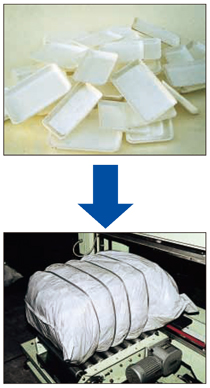 *Type for processing PET and other plastic containers
External Drawings
*Conveyers for manual sorting before processing may also be added.
PB-1000・800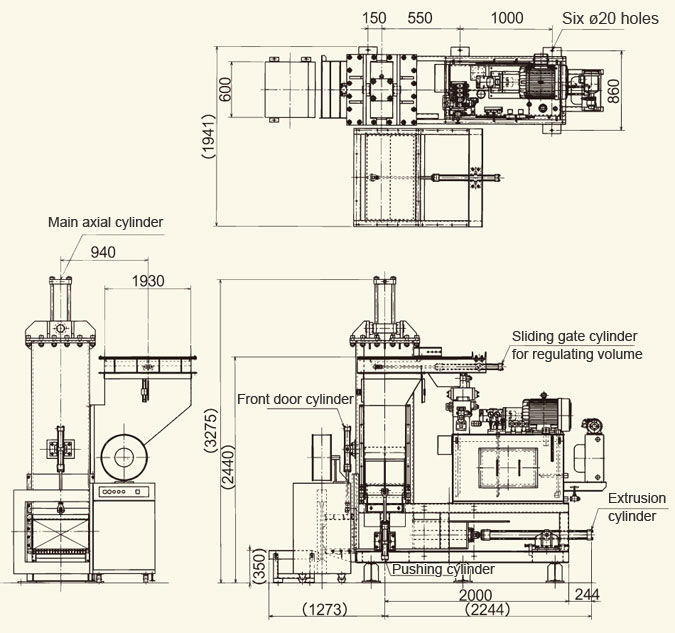 PB-500・400
With conveyer for throw-in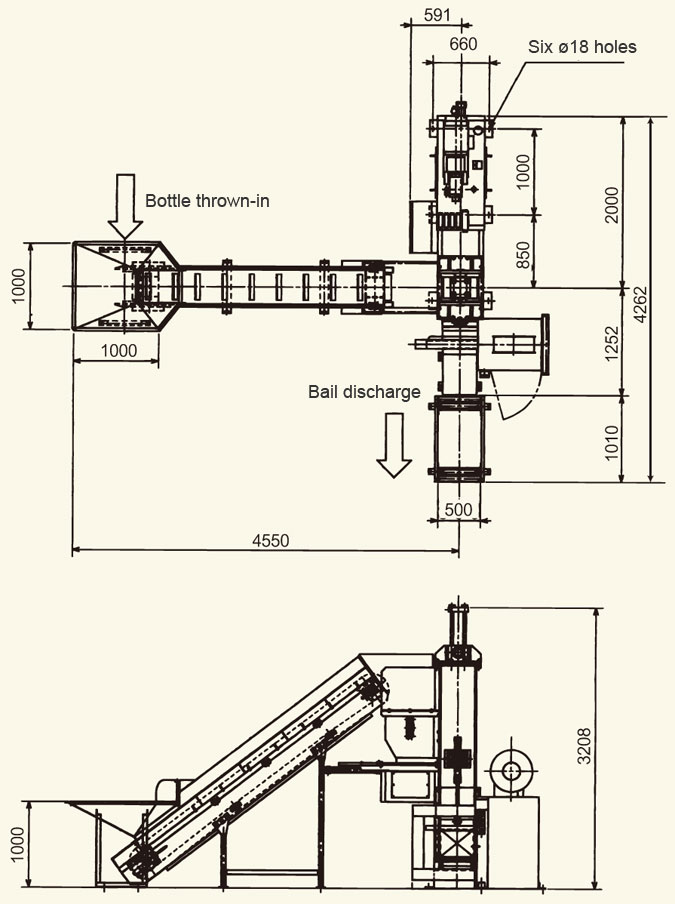 PB-300・200
With conveyer for throw-in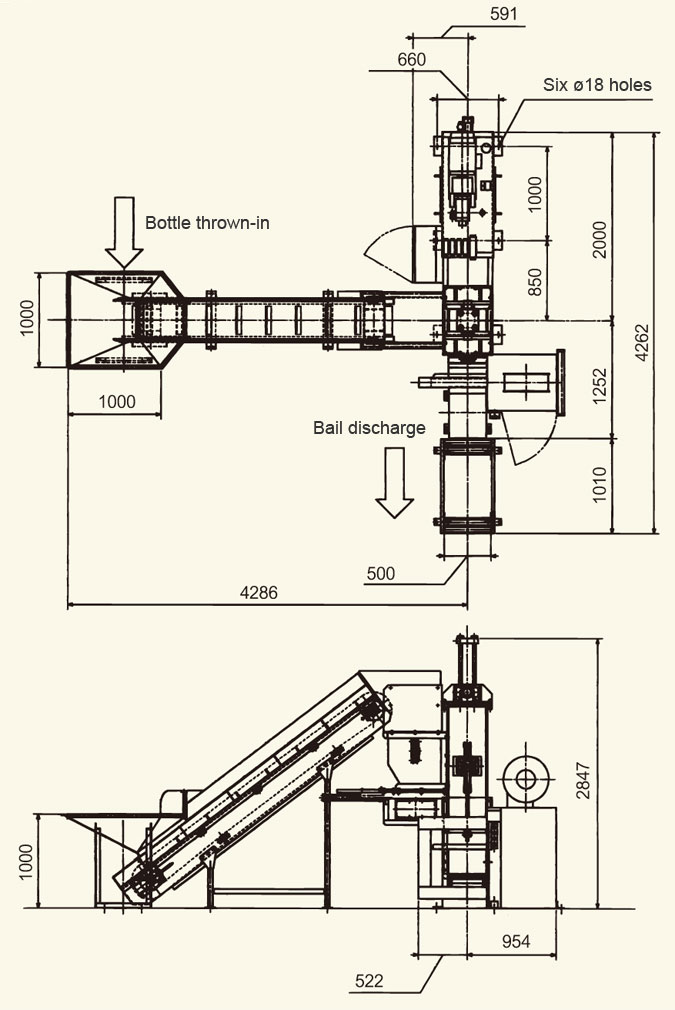 PB-100
With conveyer for throw-in and gate for preventing bridging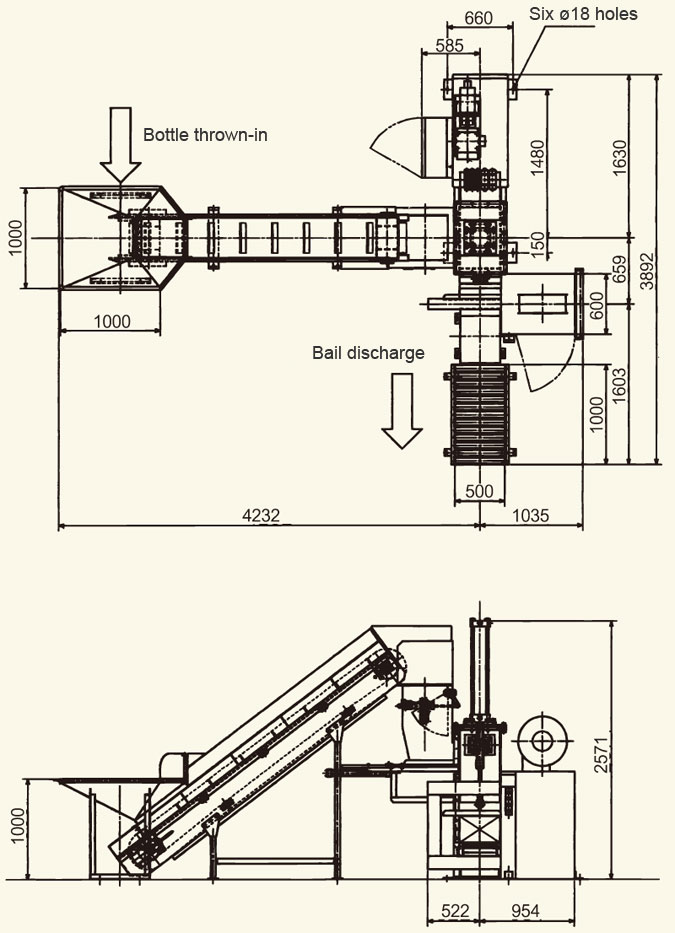 Type for Processing PET and Other Plastics (PBL, PBH)
Compresses, reduces volume and binds other plastics (A type)
Wrapped with in film, sealed, and bound for preventing fall-off and odor (S type and F type)
Various combinations are possible to suit your purposes and applications.
Please select as shown below.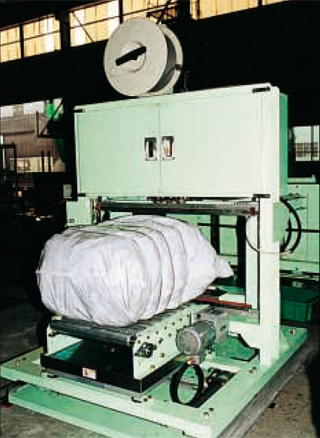 Binding and sealing section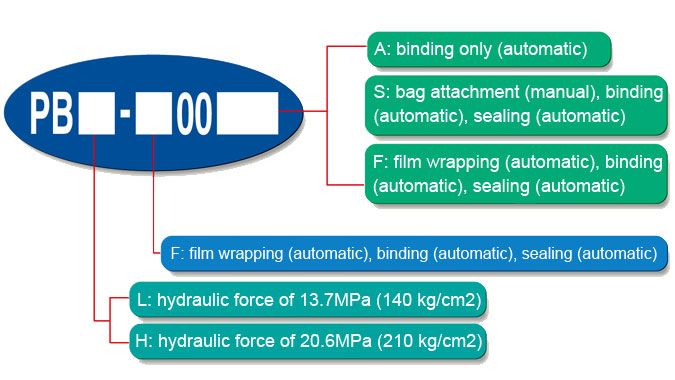 PET bottles and other plastics are processed separately.
Other plastics are thrown in loose or after packing in a small bag (about 30 liters or less).
Filled bags larger than 30 liters are thrown in using the manual throw-in chute.
The processing capacity for other plastics is 70% that of PET bottles and 20% or less for plastic trays.
External drawings for PBL (H)-F